It's that time of the year again.
We're just past the end of the world, and today is the last day of 2012. And that means it's list-making time! 2012 has been a special year for me; our beloved PlayStation Vita was released, and The Vita Lounge was born. It's hard to believe that the Vita has only been out since February, and with the multitude of great releases (check the review scores in our review section; a mighty impressive library already, if you ask me- and we haven't even touched every noteworthy game yet!) it has been very hard to pick the best games on the Vita. But we still tried.
THE BEST DOWNLOADABLE GAMES
The PlayStation Network Store is rich in content, featuring digital versions from fully-priced game releases, PlayStation Portable and PlayStation One games, tiny bite-sized Minis…. And, hidden between the likes of Assassin's Creed and PlayStation All Stars, the mobile games which are shorter on content than the games which postulate 35 dollars/euros/pounds of your hard-earned money, but more polished and fleshed out than Minis… The Vita started off quite well this year, with a neat release of downloadable titles, which were small in scope but could often warrant for many hours of fun- and this list was made excluding titles such as Retro City Rampage and Dokuro, two games which still have not been released in the Old World!
5. WHEN VIKINGS ATTACK!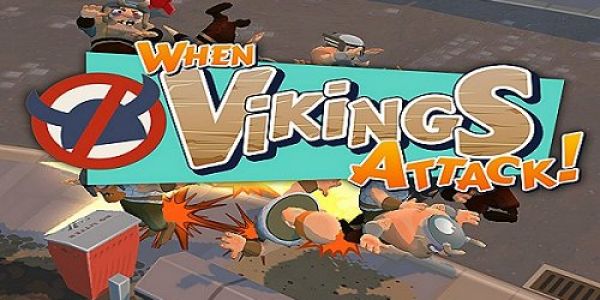 When Vikings Attack! is a game that is very simple in concept yet also very addictive; you throw stuff at the invading Vikings. While the game seems shallow at first, as you dive in you notice it is considerably deeper than you thought on beforehand and the gameplay becomes quite tactical as you progress or fight players online.
4. MOTORSTORM RC


MotorStorm RC is not your traditional MotorStorm racing game: instead, you control small Radio-Controlled (RC) cars. It worked out quite well; this title (which is much like the Micro Machines games) is a great cross-buy digital-only title that sports addictive gameplay, loads of content and modes and looks good, too.
3. SOUND SHAPES


Sound Shapes was a title very much like LittleBigPlanet: both games with not too much singleplayer content, but leaning on an excellent toolkit that allows players to build their own levels. Sound Shapes is 'musical platforming' at its finest! A review will be added to the site later down  the line.
2. SUPER STARDUST DELTA


Super StarDust Delta is an extremely addictive, genre-defining twin-stick space shooter. The trippy and colourful game looks great, runs well, has short loading times and also a great musical score, but is pure perfection in terms of twin-stick shooting. Competing with friends on the online leaderboards is also great fun. We haven't written a review on it- you'll have to wait until next year.
1. TALES FROM SPACE: MUTANT BLOBS ATTACK


This is a great little title filled to the brim with humour. It tells the 5-hour long story of a mutant blob who slowly grows as it devours objects, humans, and eventually… The game features addictive puzzle platforming gameplay and has a great '50s sci-fi atmosphere to it, accentuated by the graphics and the cheerful music. This is a very fun original title definitely worth picking up, and is our pick for the best download-only Vita title!
THE BEST VITA GAMES OF ALL TIME
And of course, that means 2012- since the Vita has been released this year. It has been quite hard for us to choose our favourite Vita games this year, but we've managed to construct a top 5 on which everyone agreed. There were some great runner-ups, such as the Metal Gear Solid HD Collection, Everybody's Golf, PlayStation All Stars, WipEout 2048 and Uncharted: Golden Abyss, but not every game can make the list. My personal favourite, Persona 4 Golden, is not in there because of the simple fact that this website is EU based and we have not received a localization of the game (as well as Ragnarok Odyssey) yet and I was the only voter to import the title. Nevertheless, I feel that our top 5 truly consists of 5 of the greatest Vita games, spanning a variety of genres and showing that the Vita enjoys a great library of games.
5. ASSASSIN'S CREED 3: LIBERATION

Jasper Bekema

Jasper Bekema: "Assassin's Creed 3: Liberation is the second handheld Assassin's Creed title and the first fully-fledged one. New Orleans looks beautiful, the game contains the fast and fluent combat system of the Assassin's Creed series and the free-running feels great. It's not without it's downsides, but it's very fun."

Matt Smith

Matt Smith: "Assassin's Creed on a handheld was always going to be a difficult project to pull off but Ubisoft have some how managed to do it. This is not a watered-down down port or a simple platforming reject but a fully blown Assassin's Creed in your pocket. It may be smaller than it's console counterparts but does feature plenty of tasks and missions to keep you busy. With a new female assassin, possibly the most interesting to date in a Assassin's Creed game and a new story line make this game a instant buy for any AC fan."

Jonathan Harding-Rathbone

Jonathan Harding-Rathbone: "Perhaps only the second title to prove that full home console-sized worlds CAN fit and work in those tiny cartridges, Liberation is a fantastic game that has its own story rather than just being a port. It's not perfect due to technical issues and a not very in-depth story as you'd expect from Assassin's Creed, but it's still a brilliant game that shouldn't be missed out on."
4. GRAVITY RUSH

Jasper Bekema

Jasper Bekema: "Gravity Rush is one of the most original games I've played, and certainly a one-of-its-kind piece of art. The cel-shaded graphics look beautiful, Kat is a charming protagonist with an interesting story, and most important of all, gravity-shifting around Hekseville is great. I absolutely love this game and it is one of the few game that defines the Vita as a handheld; the balance between progression and mission length is great."

Paul Murphy

Paul Murphy: "If you are looking for a standout "nobody else can do this kind of thing" game on the Vita then Gravity Rush is your man (or piece of plastic). Great story, lovable characters and unique controls. This is what the Vita needs more of. And for now it is free on PlayStation Plus! Get it now!"

Jonathan Harding-Rathbone

Jonathan Harding-Rathbone: "Probably the most unique title I have played this generation, Kat's journey is one that shouldn't be missed, and is great fun. Another title that uses gyro and touch controls that don't feel tacked on, Gravity Rush is artistic, stylish and well constructed. It feels so natural within minutes flying all over the place, and my biggest regret is that it didn't sell more at retail."
Matt Smith

Matth Smith: "It's not often that a classic and highly rated game is release for a console and then bettered on a handheld. LBP is a instant fit on Sony's PlayStation Vita, brilliant level designs in the campaign make for some great game play mechanics with Vita's tool set. Online or offline, the game flows and is a complete joy to play, brilliant level creation tools that again fit better on the Vita make this game one of the best handheld games ever. Just be prepared to spend a huge amount of time creating your perfect level."

Jonathan Harding-Rathbone

Jonathan Harding-Rathbone: "Although I admit my time with LittleBigPlanet on the Vita has been short, the graphics and gameplay from its bigger brother have converted brilliantly, and the creative mind can do just about anything, as games within the game can be produced and touch screen controls add to the magic."

Paul Murphy

Paul Murphy: "The story may be short, but is very enjoyable. However, the real long-term replayability of this title should not be underestimated, and if you can get your head around the creation mode yourself then there is arguably no limit to what can be achieved."
Jasper Bekema

Jasper Bekema: "Rayman Origins is one of the best platformers of all time, and holds its ground against the likes of Super Mario Bros. 3 and Super Mario World. It succeeds perfectly in everything it does, whether it's platforming, secret levels, silly humour or collectibles. In my opinion, this is the best looking Vita game so far; the colours look fantastic on the Vita's OLED screen, and the art style is very fresh and a nice change in a generation when every game has to be dark and 'mature'."

Matt Smith

Matt Smith: "Think Mario is the only decent platformer around? think again. Rayman Origins has all the charm of the aforementioned Italian plumber but comes with it's own unique art style and visual flair, good level design, plenty of hidden areas and challenges keep the game fresh. A must have for any platforming fans. Not many platforming games can stand tall next to Mario, but Rayman Origins certainly does."

Jonathan Harding-Rathbone

Jonathan Harding-Rathbone: "Rayman Origins turned out to be the biggest surprise for me when the Vita was launched. Beautifully presented on the OLD screen, this game has it all. Sharp and responsive controls, loads of levels, speed runs and collectibles;  Rayman Origins is a true love letter to the 2D platformer that was so popular in the '90s. It shows that this kind of game can still hold up as a worthy experience in era dominated by three-dimensional games, and is a nice change of pace from the muddy, dark shooters that are so prevalent today."
AND THE VITA LOUNGE'S VITA GAME OF THE YEAR 2012 IS…
1. NEED FOR SPEED: MOST WANTED

Jasper Bekema

Jasper Bekema: "Lots of different-handling, licensed and well-designed cars? Check. Great race design? Check. Many other challenges besides racing to keep you busy? Check. Well-integrated online system? Check. Massive open world to roam around in? Check. Our Game of the Year? CHECK. Need for Speed: Most Wanted (2012) is the best racing game I've ever played. Roaming and racing around Fairhaven is great fun, and more often than not are you just driving around, beating your friends' records, smashing gates and provoking the cops instead of racing. Admittedly, I have not finished the game yet due to a copy of Persona 4 Golden I have imported, but the playtime I have put into it ensured me that this game is amazing and a must-own, on whatever console you have."

Matt Smith

Matt Smith: "This game is the game I've been waiting for ever since I got my Vita, a true console like experience in the palm of my hands. NFS: Most Wanted is full to the brim with content and challenges, and also features an impressive open sandbox environment. Online modes aplenty ensure you're always connected with your friends, setting times, scores or just running speed cameras all come with those very important bragging rights. A pumping soundtrack and tons of content ensure that this game is an instant classic."

Paul Murphy

Paul Murphy: "My favourite Vita game so far, and a true testament to what the Vita can do. What it lacks initially in terms of visuals it makes up for in terms of playability, fun and scale. A worthy winner, now give us the DLC please, EA!"